Do you have decayed, chipped, or stained teeth? Veneers would be a great solution for you!
Dental veneers are a thin layer of porcelain added to your tooth, helping to cosmetically fill in misshapen teeth or gaps to improve your smile. Veneers can also help protect teeth from tooth hypersensitivity and cavities.
Our Las Vegas office offers great veneers that can help to improve your smile. Schedule an appointment with Luth & Heideman today!
How Can Veneers Help?
Teeth, unfortunately, wear out over time, often becoming discolored and chipped. This can greatly affect people's smiles and their confidence. Luckily, veneers can help with this. If you have any of the below issues, consider getting veneers!
Worn enamel | When the enamel protecting your teeth becomes worn out, it can lead to tooth sensitivity, which not only makes it difficult to enjoy eating but puts you at a much higher risk for cavities and tooth decay. Veneers are a great solution for this!
Discolored teeth | As your enamel wears down, it can reveal the darker inner layers of your tooth causing your teeth to appear yellow. When this happens, veneers are a great solution for brightening your smile. Veneers not only help with tooth discoloration but add extra protection for your teeth.
Uneven teeth | An abnormal tooth structure, such as uneven or chipped teeth, can be uncomfortable and affect your smile. Veneers can fill in the missing parts of the tooth, to complete your smile.
Gaps between teeth | Large gaps between teeth are annoying and can get in the way of your smile. Veneers cosmetically fill in those gaps between teeth, giving you the smile you've always wanted.
Why You Should Consider Porcelain Veneers
Porcelain veneers are a great way to restore your smile. They protect your worn enamel, brighten discolored teeth, and restore cracked and misshapen teeth. Our veneers are also strong, durable, and flexible.
Porcelain veneers look like natural teeth, so there's no need to worry about them standing out from the rest of your smile. Our dentist will match the veneer to the rest of your teeth so that it blends in with your smile.
Take Your First Step Today!
At Luth & Heideman you can expect quality care. We use the newest tech and techniques to make the procedure as comfortable and effective as possible. With our consulting room and excellent bedside manner, you can be sure to get the service that you need. We take extra time with our patients to make sure that any questions or concerns you may have will be addressed and to make sure that your experience is as positive as possible.
Schedule an appointment with Luth & Heideman today!
Benefits of Porcelain Veneers
Veneers Have a Natural Tooth Appearance
One of the great things about porcelain veneers is that the porcelain is slightly translucent, giving veneers a natural look that integrates wonderfully with the rest of your smile. With veneers, you can protect worn enamel and fill in any gaps in your teeth without worrying about veneers being noticeable.
Gums Tolerate Porcelain Well
Porcelain veneers are well tolerated by gums, and our team uses high-quality porcelain, so you won't have to worry about any embarrassing dark lines or gum discoloration around your veneer. Our dentist will fit the veneer to your tooth so that it is customized specifically to your smile.
Porcelain Veneers Are Stain-Resistant
One of the great benefits of porcelain veneers is that they're stain-resistant. As long as they are taken care of properly, and you maintain good oral hygiene, veneers will maintain their brilliance for many years to come.
Veneers Can Make Dark Teeth Appear Whiter
Veneers are a great option to make darker teeth appear white. Our dentist can integrate the veneers seamlessly into your smile, giving you whiter teeth that blend well with the rest of your smile.
Once veneers have been placed, they can't be whitened, so if you plan on whitening your teeth make sure to do so before placing the veneers.
Veneers Are Easier to Place Than Crowns
Most tooth restorations, including crowns, fillings, and veneers involve smoothing down a thin layer of the enamel, typically to remove any sharp or uneven parts of the tooth.
One of the benefits of getting veneers is that the application of porcelain veneers to your teeth often requires much less tooth shaping than for crowns. Because of this, veneers are a less invasive option compared to dental crowns.
How Do Porcelain Veneers Work?
Diagnosis and Treatment Planning
During the treatment planning step, you will meet with our dentist to discuss the veneer placing process and the results you would like to achieve. Our dentist will also go over any questions or concerns you may have, such as questions about the procedure or payment, so that you can move forward confidently.
Following your discussion, our dentist will examine your teeth. During this examination, we will take x-rays and impressions of your teeth and mouth so that our dentist can begin planning for the veneer placement.
Tooth Preparation
The next step is tooth preparation. During this step, our dentist will slightly reshape the surface of your tooth to prepare it for the veneer placement.
Afterward, our dentist will take impressions of the tooth. This will then be sent to a dental laboratory so that an exact fit can be created for your tooth. A temporary veneer may be placed in the meantime while your veneer is being created.
Veneer Bonding
Our dentist will place the porcelain veneer and examine it to make sure that the fit and color match correctly. During this process, our dentist will likely remove the veneer multiple times to trim the veneer until it fits your tooth properly.
Once our dentist is satisfied, he will permanently bond your veneer to your tooth. Before bonding the veneer, the surface of the tooth will be etched to allow for a stronger bond. Once your tooth has been etched, our dentist will select a bonding agent that will give your veneer a color that matches the rest of your teeth.
Aftercare and Maintenance
Once the bonding is set, our dentist will make final adjustments to the shape and bite of your new veneer. If necessary, our dentist may have you schedule a follow-up appointment for the fit and appearance of the tooth, as well as to check the gumline.
After your follow-up, make sure to continue scheduling your regular exams and cleanings. These exams are crucial to maintaining the health and appearance of your veneers, as well as to maintain your oral health and hygiene. Make sure to schedule cleanings and exams once every six months.
Before and After Photos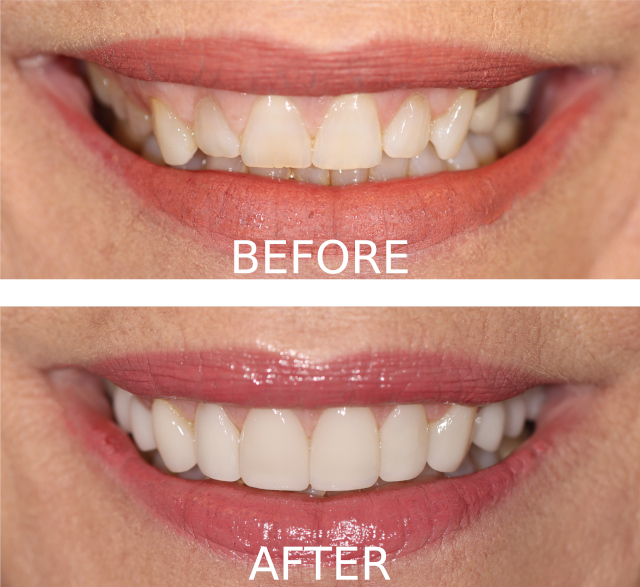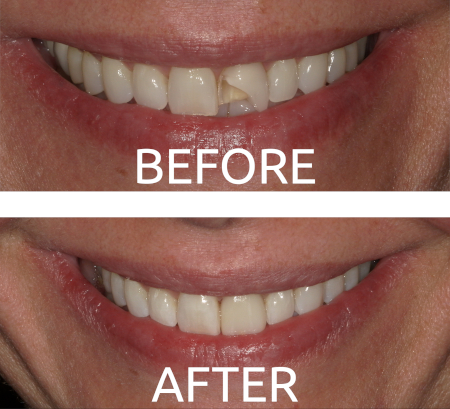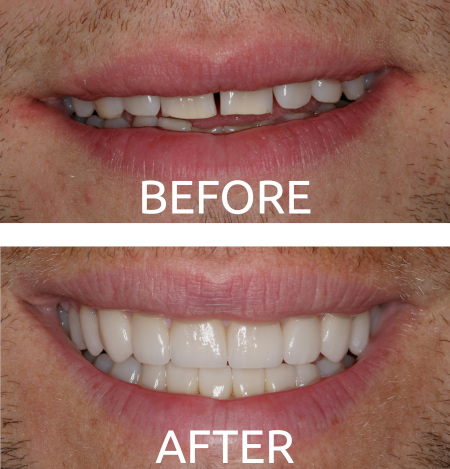 Dental Veneer FAQs
Who Is an Ideal Candidate for Veneers?
It's our dentist's top priority to ensure that your veneers are a success and that they improve your smile. That being said, for optimal results you should meet the below qualifications;
You should maintain good oral health. Make sure to keep not only your teeth but your whole mouth healthy by practicing good habits, such as brushing and flossing regularly and going to an exam and cleaning appointment twice a year.
Any existing diseases should be cured. If you have a disease that affects your oral health, this should be treated and cured before you get your veneers. If you have any questions about this, be sure to schedule an appointment with Luth &Heideman to speak with our dentist.
What Are the Disadvantages of Porcelain Veneers?
While veneers can be a fantastic solution for many patients, some risks should be considered before you get veneers.
It requires the removal of a thin layer of enamel. A top thin layer of enamel must be removed for the veneer to properly bond to the tooth. While the veneer will act as an additional protective layer once placed, it is important to know that this layer of enamel cannot be restored once removed.
The procedure is irreversible. Because the procedure requires the removal of part of the enamel, the veneer process is not reversible. Veneers can be replaced, so worn or damaged veneers shouldn't be a problem, but after the procedure, your tooth will always need a veneer.
Veneers are vulnerable to tooth grinding. Porcelain veneers aren't as strong as your natural teeth, which means that they are much more sensitive to tooth grinding. If you have bruxism or are susceptible to jaw clenching or teeth grinding, veneers may not be the best solution for you.
Are Dental Veneers Painful?
Very few patients report any pain or discomfort during the procedure. Our dentist will use a local anesthetic during the treatment to make the experience as comfortable as possible.
There may be some discomfort and tooth sensitivity for the first week or two after the veneer placement, while your mouth recovers. During this time try to avoid extremely hot or cold foods, such as ice cream. If the discomfort or sensitivity persists for longer than two weeks, be sure to schedule a follow-up appointment with us.
How Long Do Porcelain Veneers Last?
While dental veneers are a permanent solution, the porcelain may wear out over the years and eventually need to be replaced. Veneers are very durable, but how long they last before needing to be replaced can depend on several variables. Typically, you can expect your veneers to last somewhere between 7 to 12 years before needing to be replaced.
To make sure that your veneers last as long as possible, make sure to do the following:
Maintain good oral hygiene. Poor oral hygiene habits can damage not only your teeth but your veneers as well. Taking good care of your teeth and oral health is one of the best ways to protect your veneers. Make sure to brush your teeth twice a day and floss once a day.
Attend regular dental exams and cleanings. Regular dental exams and cleanings are important for taking care of your teeth and veneers. During your exam, our dentist will check your veneers to ensure that they are healthy and that there isn't any damage that needs to be addressed.
Protect your veneers from grinding. Continuous veneer grinding will greatly damage them over time. If you find yourself frequently clenching your jaw or grinding your teeth, schedule an appointment with us to see what can be done to protect your veneers as well as your teeth.
Do Dental Veneers Require Special Care?
No additional specialized care is needed to take care of your veneers. Simply practice good oral hygiene habits. Be sure to treat your veneers gently, however, as they aren't as strong as natural teeth and are more susceptible to damage.
Slight adjustments in your diet may be recommended, such as avoiding certain firm foods like ice, hard candy, or nuts. Sticky foods such as caramel should also be avoided.
Don't use your teeth to open objects, as this heightens the risk of damaging your veneers and could also potentially be damaging to your teeth as well.
Prevent tooth grinding. Our dentist may recommend wearing protective appliances during your sleep to prevent teeth grinding.
How Much Will Veneers Cost?
The cost of your veneers will depend on several factors, such as how extensive the procedure is. During your consultation, our dentist will calculate the exact cost of your veneers. You will have the opportunity to discuss price as well as payment options and available payment plans then.
Schedule an Appointment Now!
If you're sick of chipped or discolored teeth damaging your smile, now is a great time to fix that! At Luth and Heideman, we use the newest technology and techniques to give you a quick, smooth, and accurate experience. With our fully digital lab, consultation room, and attention to patient care, you can expect quality service when you visit our Vegas office.
If you're ready to improve your smile with veneers, or even if you just want to learn more, be sure to schedule an appointment with us!