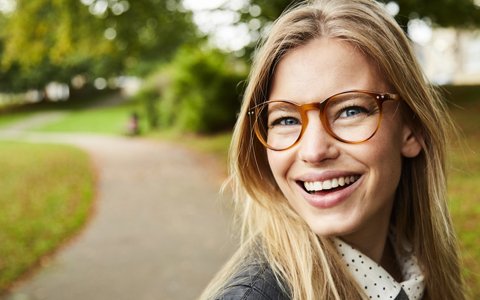 Having missing teeth can be frustrating. Missing teeth cause all sorts of issues, including difficulty maintaining good oral hygiene and making you self-conscious about your smile or speech. Dental implants can help with all of this.
Dental implants are tiny titanium rods that act as the "root" of a false tooth, securing dental crowns, bridges, or dentures. Implants make it much easier to maintain your oral hygiene and help prevent issues such as bone density loss. Implants look just like natural teeth, blending in with your smile and allowing for easier speaking and eating.
At Luth & Heideman Center for Dental Care, we not only use the newest tech and techniques to improve your implant experience, but we also make it a priority to offer great consultation and care. Set an appointment for dental implants today, and experience our unique consult room yourself!
Why You Should Consider Implants
Missing teeth can cause a variety of different issues, from oral health to self-esteem. Implants help resolve these issues. By taking place of the root of your old tooth, dental implants provide many benefits, including the following:
They give you a more confident smile. Missing teeth can cause insecurity, stopping you from showing off your smile. Dental implants look just like natural teeth and blend in with the rest of your smile, helping to restore your confidence!
Implants prevent the surrounding teeth from shifting. Over time, the teeth around a missing tooth can shift, causing different problems. By taking the place of the missing tooth's root, an implant can prevent that shifting.
They help with trouble speaking caused by missing teeth. Missing teeth can affect the way we speak, causing lisps or slurred speech. Implants can help to improve your speech by taking the place of the missing tooth.
They help with trouble eating. Similar to speech, missing teeth can make it difficult to eat. Implants can help with this. Even if you don't notice any issues, missing teeth change the way you eat and can damage your jaw over time. Implants help prevent this.
Implants protect your facial structure. Implants prevent bone density loss in your jaw, as well as shifting teeth. This keeps your facial structure from deteriorating or shriveling as with missing teeth.
They make it easier to maintain good oral hygiene. Dental implants take the place of your missing teeth and can be maintained through brushing and flossing just like your natural teeth.
Implants are long-lasting. While bridges and dentures wear out after roughly 10 years, implants last long term. As long as you take good care of them, your implants might not ever need to be replaced.
Take the First Step Today!
Dental implants provide benefits to your oral health that normal dentures don't, protecting your jaw against bone decay and preventing your teeth from shifting. With implants, you don't have to deal with hassles like dental glue or changes in diet. If you have missing teeth, now is the time to take action toward a better smile!
Quality Service in Las Vegas!
At Luth & Heideman we make quality care and service the priority. We strive for a welcoming atmosphere and take the time to make sure that any questions our patients might have are addressed.
We use the newest tech and techniques to give you superior care. Our dentists spend more time with our patients than other practices; we have a classy consultation room specifically for discussing the procedure and our patients' questions.
Don't Let Dental Anxiety Stop You!
Dental anxiety is a common issue that can prevent people from coming in and getting the work done that they need to improve their smiles. We're aware of this problem, and of just how stressful scheduling an appointment can sometimes be. Our team is here to help you through your dental anxiety!
We're here to help you feel as at ease in the chair as possible. With our consultation room, we take the time to make sure that any questions or concerns you may have about your visit are addressed and answered.
Don't let dental anxiety stop you from getting your old smile back! Schedule an appointment with Luth & Heideman today!
Patient Reviews
"Got 2 implants yesterday and it could not have gone better. Everyone in the office is so great. No pain is a top priority."
Sandy G.
How Does the Dental Implant Process Work?
There are several steps to the implant process. The implant placement and recovery process should take somewhere between 3–6 months, so plan accordingly.
Prep and Exam: A lot of prep work goes into the dental implant process. This prep work includes a review of your medical history and creating a treatment plan for the procedures. We will also x-ray your teeth and jaw to create a 3D model of your mouth so that our dentist can create an implant custom-designed for you.
Implant Placement: The implant, or post, will then be surgically placed into your jaw. This post will act as the false tooth's "root." This will not only help support your jaw and the rest of your false tooth, but it's also much more permanent than a dental bridge or dentures, which can shift or fall out.
Recovery: After the post has been implanted, you'll go through a recovery process while your jaw bone heals. Recovery times vary, but expect this process to take several months. During this time your jaw will heal and the bone will grow around the post. During the beginning of your recovery, you may need to eat soft foods.
Placement of Prosthetic Tooth: After your jaw has healed, our dentist will place your prosthetic tooth, which consists of the abutment and the crown. Our dentist will attach the abutment to the implant which will hold your artificial tooth in place. After the abutment has been attached, your dentist will attach a crown over the abutment.
This procedure will take multiple appointments. We'll work with you to plan and schedule the appointments so that it won't be an issue, but do be aware that this is a multi-step process.
Dental Implant FAQ
How Much Will Dental Implants Cost?
The cost of a dental implant will depend on several variables, including insurance coverage and the type of implant. Please schedule an appointment with us for price estimation and further discussion of your implant procedure.
Are Dental Implants Painful?
During the implant procedure, we do everything we can to reduce discomfort. We use new techniques and technology to make the experience as pleasant as possible.
During the procedure, we'll give you anesthesia. We'll also use tools and methods that provide solutions that are ideal for your comfort and health. Find out more about how we can improve patient comfort.
Living with dental implants is painless and very similar to the experience of natural teeth. Because dental implants function just like normal teeth, you also won't have to deal with the common frustrations that come from dentures or bridges such as dental glue or sliding.
How Long Do Dental Implants Last?
Dental implants last long-term, unlike traditional dentures which wear out after about ten years. As long as you take extra good care of them, your implants are likely to last you the rest of your lifetime.
While implants are long-term, do be aware that the crown of your prosthetic tooth may need to be replaced every fifteen to twenty years or so, depending on how well you take care of your teeth.
You can make your implants and dental crowns last longer by:
Brushing twice a day.
Flossing daily.
Using mouthwash.
Scheduling semiannual dental visits with Luth and Heideman.
Why Should I Consider Implants Over Traditional Dentures?
Implants offer health benefits that traditional dentures don't. While both options replace your teeth, implants restore them, root and all. Because of this, dental implants can prevent issues such as shifting teeth and bone loss while dentures can't.
Implants last longer than traditional dentures. While traditional dentures wear out roughly every ten years, you can go your entire life without having to replace implants. Dental implants are an investment that lasts.
Implants are less of a hassle than traditional dentures. Because dental implants keep your prosthetic teeth secured to your jaw, you don't have to worry about annoyances like denture glue or dentures falling out in the middle of the day.
Am I a Good Candidate for Dental Implants?
You may be a candidate for dental implants if you meet the below criteria:
If you have one or more missing teeth | Because dental implants replace both the root and crown of a tooth, implants can be a great option for replacing missing teeth or teeth that need to be extracted.
If your jawbone is done growing | Placing dental implants while one's jaw is still growing can cause problems for both the jaw and the implant. Because of this, kids and teens should wait to get dental implants.
If you have healthy oral tissue and don't have any bone healing issues | Bone healing issues and unhealthy tissues can affect the dental implant procedure. If you have a history of either let us know. Our dentist may recommend a different solution.
If you don't smoke | If you smoke tobacco, or used to smoke, let our dentist know. Dental implants may not be the best solution for these patients, but depending on your situation they could still be an option for you.
How Long Is the Implant Recovery Process?
Dental implants can take anywhere from three to six months to heal. The healing time varies depending on factors such as:
What type of implants you get.
How well you take care of your mouth after the implant placement.
Our dentist will walk you through how best to take care of your mouth while it heals so that you can recover as quickly as possible.
How Does the Implant Preparation Process Work?
A lot of work goes into the preparation for your dental implant so that we can give you implants that fit you perfectly. Some of this prep work includes:
A dental exam.
A review of your medical history.
Making a treatment plan.
During the dental exam, we'll make sure your mouth is healthy for the implant placement, and will also x-ray your teeth and jaw in our fully digital lab. We'll then use those x-rays to create a 3-D model, which our dentist will use to prep your implant and prosthetic tooth.
We will also go over your medical history to ensure that there aren't any conditions that might complicate the implant placement, and create a treatment plan.
Is There Any Additional Care After Dental Implants?
During your recovery, there are some things that we may recommend you to do to care for your teeth while your mouth is healing, such as eating soft foods or taking antibiotics.
After your recovery, however, no additional care is needed beyond maintaining a healthy oral routine. You can take care of your implant the same way you do your natural teeth, by brushing and flossing.
Some good practices should be maintained to keep both your implants and your natural teeth healthy:
Keep up good oral health practices, brushing twice a day and flossing once daily.
Schedule a checkup with us once every six months.
Avoid chewing on hard items like candy, as this can damage your implants as well as your natural teeth.
Ready to Have a Full Smile Again? Schedule an Implants Consultation
Dental implants are a great solution for missing teeth, and there are benefits from implants that you can't get from traditional dentures or bridges:
Implants last long-term.
They are much more natural-feeling than dentures.
Implants provide better support for your prosthetic teeth.
They prevent against bone-loss and tooth shifting.
Whether you're ready to get a dental implant or you just want to learn more, schedule an appointment with Luth & Heideman today! With our fully digital lab, we use new technology and technique, we can provide excellent care to all of our implant patients.
At Luth & Heideman in Las Vegas, we do our best to make sure our patients are always our highest priority. It's our goal to make sure that you're well taken care of throughout your visit and to ensure that your appointment is a positive experience. Make an appointment now!